Background History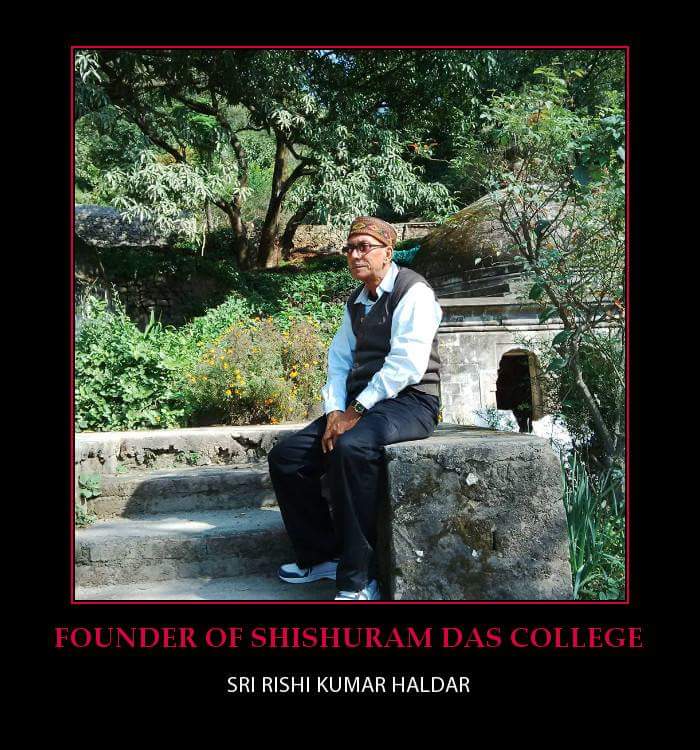 Shishuram Das College is a brain child of various eminent personalities who extended their helping hands and provided financial support and lands for its premises and it is a dream coming true for all those people and students who want to avail for higher education and contribute positively in the development of society. Shishuram Das College was founded on 26th July, 2010 by the Diamond Harbour Sarisha Janakalyan Sanstha under the chairmanship of Sri Rishi Kumar Halder(Retired teacher of Sarisha High School and former Savadhipati, South 24 Paraganas Zilla Parishad and former MLA, 2001-2011) in collaboration with other educationists and philanthropists like Sri Badiaruzzaman Laskar(Retired Head Master of Mohanpur High School and former Zilla Parishad Member of South 24 Paraganas, Zilla Parishad and Secretary of the Society), Late Pranapati Das(former Head Master of Dhanberia High School and former Vice-President of the Society), Dr. Haraprasad Samaddar (former President of WBBSE and Retired Principal of Dinabandhu Andrews College), Sri Gopal Bandyopadhyay, (former Vice-Principal of Fakir Chand College) and many others. All of them actively participated in the realization of such a huge and noble dream.

Diamond Harbour Sarisha Janakalyan Sanstha, a society with Sri Rishi Kumar Halder as its Chairman and Sri Badiaruzzaman Laskar as its Secretary, owes its origin to the intensive effort by several educationists and philanthropists and is intended for spreading education in the region of Diamond Harbour—Block No. II. The society also founded The Shishuram Das College and the latter owes its huge premises (an area of 5.08 acres) to the society. The college initially started in the year 2010 with 54 students at Sarisha High School. At the beginning it started with B.A. general course in five subjects. At present the college offers Honours courses in five subjects that include Bengali, English, History, Education and Philosophy and general courses in Bengali, English, Sanskrit, Arabic, History, Geography, Philosophy, Education, Political Science and Physical Education.

The foundation stone of the building in which it is presently housed was laid on 16th August 2010 by Dr. Suranjan Das, the then Vice-Chancellor of the University of Calcutta and Dr. Subimal Sen, the then Chairman of West Bengal State Council of Higher Education and in the presence of Dr. Haraprasad Samaddar, the former President of WBBSE and the former Principal of Dinabandhu Andrews College, and Sri Rishi Kumar Halder, the President of the Organizing Committee of the College and former MLA. Since then the college has expanded structurally and academically, thus earning the reputation of having an excellent academic environment. The present student strength is around 1100 and is expected to increase in the future. Apart from classrooms and library the college also has canteen and common room for students and playground for outdoor activities.